0 A.D. Alpha 23 Ken Wood has been released.
August 08, 2018 - 00:29


Wildfire Games, an international group of volunteer game developers, proudly announces the release of

0 A.D. Alpha 23 "Ken Wood"

, the twenty-second alpha version of 0 A.D. Empires Ascendant, a free, open-source real-time strategy game of ancient warfare. Here's a trailer showing the new features.






You may download it at 0.A.D.'s Official Website.

This game uses the Pyrogenesis engine, which is an open source 3D RTS engine and it should be quite easy to customize. And it allows you to customize everything. If you are interested on it, check this modding guide and show us what you can do with it.


Frontline Chaos - July 2018 Update
August 07, 2018 - 08:43




Dutchygamer

has posted a new progress report about Frontline Chaos some weeks ago at ModDB.com. Frontline Chaos is a total conversion for Generals: Zero Hour that brings two factions (Revenant and Legion) in an apocalyptical future dominated by the sinister M-Tec Corporation and its private army. Here's his words this time:



Quote:

In this update, we look at various Tech structures that have been added to this mod,
and some additions to the Revenant arsenal.






Another three months since last update. Yay me. Besides spending my time with boring RL stuff like work, playing other games and vacation, I also managed to find some time to work in this little project I call my mod.

As half-revealed in the previous update, I had made more changes then I could show in a single update. The change that has the most impact is the replacement of the Revenant Construction Crane by the Crawler Construction Vehicle. In a wild idea to make the mod interesting / unique, I toyed with the idea of making an hybrid between the Generals Dozer mechanics and the C&C MCV mechanics. The end result is the Crawler: a large vehicle that functions as the Generals Dozer for base construction and repair, but has the armour, cost and speed of a C&C MCV. This makes dozer spamming less of a thing, but also makes hunting dozers more difficult due to the massively increased armour. Instead of being one of the weakest vehicles on the battlefield, your construction unit is now one of the toughest, rivalling super-heavy tanks in durability. As mentioned, the downside is that it's also almost as slow as a super-heavy tank, and also costs a lot more (currently $2000). My intention is that in the earlier stages of a match you must make a conscious choice between spending 2k for an expansion Crawler, or use that money to create more forces instead. Time will tell if this mechanic will work out, but so far I like it.

Besides this major change, I've also tried my hand at creating some more tech structures. This was a good lesson in figuring out how vZH (re)uses across multiple models, and recreating the style of vZH tech structures. Additionally, I have worked out a way on how to create snowy textures for models, which I will use for structures from now on.

As for the tech structures themselves, I will showcase two in this update. One was created because I liked the idea, and the other started out as a joke model because I was bored, but eventually replaced an ancient-old model I had for a similar tech structure. Some of you can guess which one is which.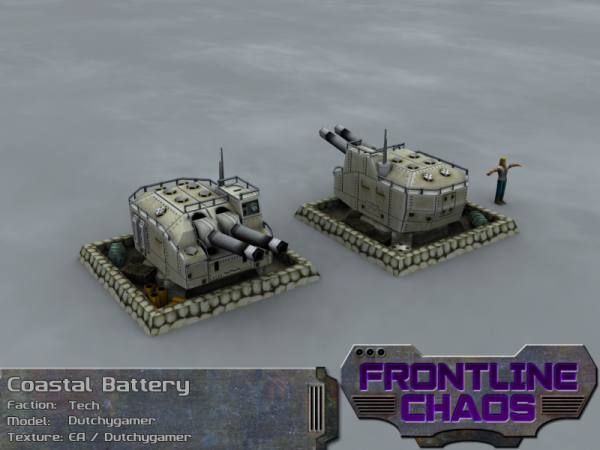 Over the years, many Coastal Batteries were constructed by various countries to defend their coastline against enemy naval forces. Various designs exist, of which the fully-enclosed twin 18cm is the most popular design. This design is based on an up scaled destroyer turret, and can fling a pair of shells over extreme distances. In a pinch, the guns can also be trained on land targets, with devastating results; shells designed to sink ships work just as well against armoured vehicles or personnel. Due to this, there are instances where batteries have been constructed with the intention to deter land forces instead of naval forces.

A Coastal Battery is designed with the intention to bombard forces from extreme ranges. The main downside is that it cannot engage enemies that close in on it. Additionally, even with the high-velocity shells, targets on the outer limits of the range can evade the projectiles if they stay moving. The Coastal Battery also lacks a bit in accuracy, but makes up for this by dealing massive damage in a large area on impact.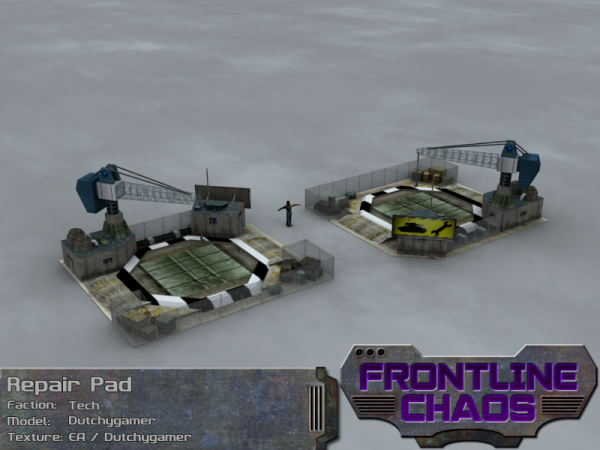 The Repair Pad is a large structure which can be used by commanders to quickly repair vehicles on the battlefield. It comes with a large service depot to quickly repair a singular vehicle, while nearby vehicles outside the structure will be slowly repaired as well. Most of these structures are leftovers from previous conflicts, but can easily be reactivated for use by capturing it.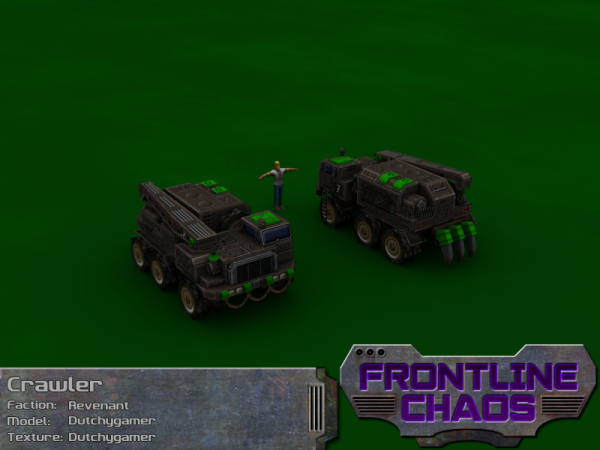 Where you find a Revenant base, you will quickly notice one or more massive 6x6 vehicles rumbling around. These vehicles are Crawlers, and are used by Revenant forces to construct and maintain their bases. Each vehicle is equipped with various tools and supplies for these jobs. A large crane on top is used for heavy-duty lifting, and the massive 6x6 chassis can carry the vehicle across nearly every terrain type. Piloted by a mix of civilian contractors, Revenant engineers and other volunteers, they form the backbone of each Revenant base.

These vehicles replace the fleet of the much more fragile Construction Cranes used before the outbreak of the Frontline Chaos conflict. While the cranes were easier to maintain and slightly more nimble, they easily fell to focussed fire. The Crawler on the other hand, is a very tough nut to crack. Easily rivalling the heaviest tanks on the battlefield in both protection and size, a Crawler can shrug of most damage with ease, and continue doing its job. The downsides are that an individual Crawler is twice as expensive as the crane it replaces, and is also rather slow. This was deemed an acceptable trade-off compared to the boons it returns.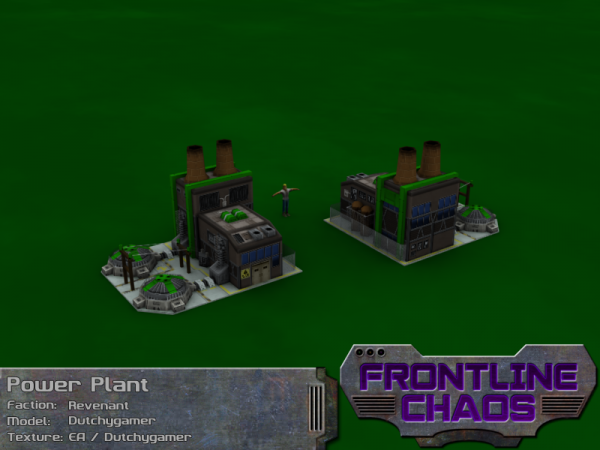 Revenant forces rely on fossil-fuelled Power Plants to produce all the electricity needed for their bases to function. Using an unique open-turbine design, it can run on burning coal, oil and gas to generate power. While not the most efficient, nor the most environment friendly way of producing power, it does the job well enough for it to be the primary power supplier for Revenant forces.



That's it for this month's (or quarter's) update.


Dutchygamer signing off.





You may find out more information about this mod by looking at the Frontline Chaos forums.


YR Red-Resurrection Patch 2.2.8 release!
August 02, 2018 - 19:06



Patch 2.2.8 for

YR Red-Resurrection

has been released! This ones been somewhat delayed but it has all been for good reasons. In the background, or on the discord rather, this patch has been gestating and tested on a weekly basis to include bigger changes than can be achieved in a simple one month patch!



Big Features



EUROPEAN COUNTRY REWORK- Chrono Legionnaires have been moved to T3, and Sonic Enforcers moved up to T4, with related balance tweaks. This is to help make Europe slightly easier to combat on T3, as the Sonic Enforcer/Bishop combo was incredibly powerful, but it also provides them with more mobility and versatility earlier on. Chrono Legionnaires were also underused in multiplayer, making them more relevant now. Furthermore, Speedways have been completely removed and instead Warp Nodes now also buff the speed of surrounding units.

UNIVERSAL SELF HEAL CHANGE- Thanks to a new feature from AlexB, the developer of Ares, it is now possible for combat to prevent self healing- and that is applied to Red-Resurrection. Now, a unit will not self heal for 10 seconds after taking damage. This is great as it prevents certain units being unkillable in certain situations due to out healing damage, such as a single Rocketeer vs a Crazy Ivan. This affects most units in the mod, so healing may be adjusted in future patches to compensate.

TWENTY-TWO BRAND NEW MULTIPLAYER MAPS- many made exclusively for this mod, and all of great quality!

And dozens more changes, including many balance adjustments, bug fixes and graphical tweaks.

Here are a few of the new maps.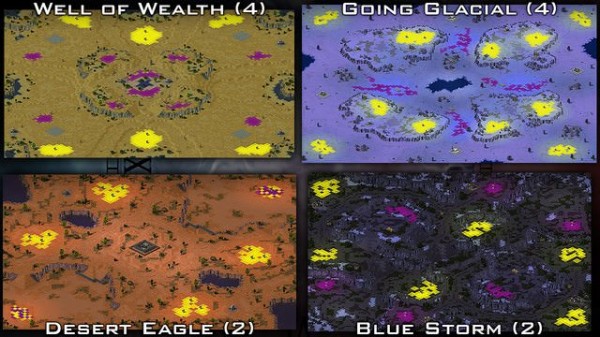 You can view the full changelog here.



YouTube Content



As always, the YouTube channel has been continually updated with new content - and that will continue! Subscibe to the channel for updates on every video.





The patch can be downloaded and manually installed, if you are unable to use the client updater for whatever reason.



MANUAL INSTALL



Remember you can always join our Discord for active discussion and first-look at every upcoming patch!

--------